History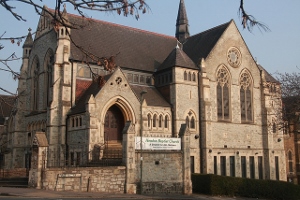 HBC has been part of the local community since 1873 and the current building was erected in 1886. Since 1873 it has had 14 ministers. Our current pastor, Rev Errol Jacobs, started at the church in July 2014.
"Hendon Baptist church (fn. 21) was formed in 1873 by a group led by E. J. Smart, a Brent Street ironmonger, which had been meeting since c. 1869 in the former Hendon charity school in Church Road. In 1878 the congregation moved to an iron hall in Finchley Lane, built by Stephen Shirley as a temperance hall. A permanent church, seating 600, was opened in 1886 on a sloping site 80 yards to the west. It was designed by J. E. Sears in an individualistic version of 13th-century Gothic, and is an aisled cruciform building, whose crypt serves as a church hall."
(From: 'Hendon: Protestant nonconformity', A History of the County of Middlesex: Volume 5: Hendon, Kingsbury, Great Stanmore, Little Stanmore, Edmonton Enfield, Monken Hadley, South Mimms, Tottenham (1976), pp. 39-43. URL: http://www.british-history.ac.uk/report.aspx?compid=26889 Date accessed: 12 April 2011.)
On the first Sunday of every year, members remember our church covenant together:
Our Covenant
"Having, as we believe, been brought by Divine grace to receive the Lord Jesus Christ, and by the influence of His Spirit to give ourselves up to Him, so we do now solemnly covenant with one another, as God shall enable us to walk together in brotherly love, to excercise all Christian care and watchfulness over one another, that we will not forsake the assembling of ourselves together, nor omit the great duty of prayer, both for ourselves and for others; that the spiritual good and prosperity of the Church and members shall be our constant solicitude; that as far as in us lies we will promote the work of God among us, both by personal service and by our means; that we will participate in each other's joys and endeavour, with tenderness and sympathy, to bear each other's burdens; that we will seek Divine aid to enable us to walk circumspectly and watchfully in the world, denying all ungodliness and worldy lusts; that we will strive together for the support of a faithful evangelical ministry among us; and through life, amidst evil report and good report, seek to live to the glory of Him who hath called us out of darkness into His marvellous light."
Adopted at our Church Meeting, 17th December 1889